Signature Blocks: Distinguish Yourself
Digital branding starts with your inbox… with a signature block that serves as a marketing tool conveying a message of professionalism.
Here's what's included in each signature block:
Your organization branding - an additional opportunity to make a visual impression
Your contact information that lets others easily contact you
Your social media links so others can easily connect with you
Signature blocks can be created in a variety of styles and formats. Here is an example of one of our most popular styles: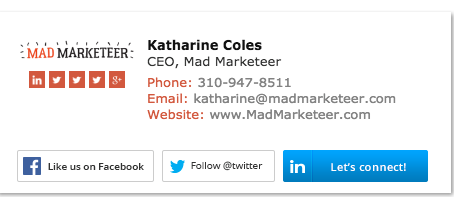 In short, your email signature is a powerful purveyor of your brand. What does yours say about you?!

Contact us now to get professional signature blocks for your entire organization — or for your executive team. For further questions, don't hesitate to contact us!
Call or text 310-947-8511
Email us